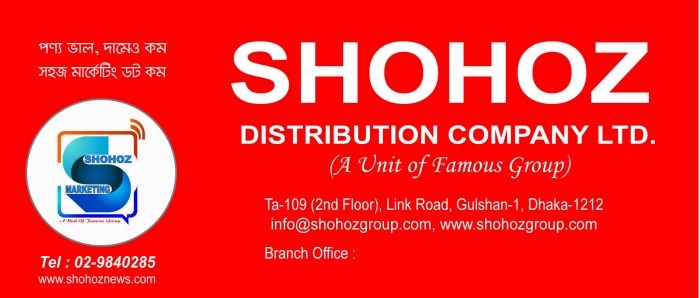 SHOHOZ Distribution Company Ltd. is a Bangladesh based Distribution & Marketing company that focuses on highly qualitative, timely delivered and cost-effective Product or Service. SHOHOZ Distribution Company Ltd. was founded in 2015 with the express purpose of developing a Distribution network & skilled manpower in Bangladesh.
SHOHOZ Distribution Company Ltd. is one of the major distributors of imported & domestic manufactured foods and beverages, cosmetics and others consumer goods. Our company has more than 2 years of experience in the distribution business as well as supermarket chains,cheap elevator shoes Dealer Point, Personnel Selling, Trade Marketing.
SHOHOZ Distribution Company Ltd. is dedicated in using its resources to gain market share aggressively in the years to come. We strive to promote our quality brands with our knowledge of this market place. SDCL is proud of its accomplishments to this date and is ready to take advantage of new challenges to come, while expanding and strengthening to new horizons of our business.
SHOHOZ Distribution Company Ltd.'s market coverage is supplied with approximately 132 establishments directly and over 500 mom and pop stores indirectly. SDCL is known throughout the community given its aggressiveness, knowledge, experience and involvement in popular social events.
SHOHOZ Distribution Company Ltd. consists of 255 employees. Our staff is composed of knowledgeable professionals with ample experience in the sales, marketing and distribution business. We provide constant training and support to our sales force providing them with the backup required to penetrate this market place while increasing our client base daily and keeping the old clients always satisfied of our quality service.
Click Here To Download Full Profile